Opportunities Aplenty for Students During Remote Learning 
In March 2020, we wrote an article about the positive role of technology in education at the Academy (https://uclacademy.co.uk/level-2-students-embrace-technology-as-a-learning-tool/). Nearly one year on, we have even more reason to celebrate the unique opportunities that technology and our remote learning programmes have given our students.
SDL (Self Directed Learning)
As many of you will already know, one of the key points of difference at the Academy is the SDL programme (Student Directed Learning), integral to our sponsor's vision of 'Educating the Whole Person'. At the heart of this enrichment programme is the aim to encourage students to develop a balance of heart, body, mind and spirit through participation in a host of varied activities. Over the years, this programme has gained momentum and has unarguably never been as important as it is now. Currently leading the SDL programme at the Academy is Ms Ayan Abdi, who over recent months has experienced first hand the ever increasing relevance and popularity of this particular part of the curriculum. 
In a typical week, students are expected to attend 1-3 SDLs, a mixture of streamed and unstreamed sessions. Each unstreamed session is 50 minutes long, the first 10 minutes of which involves a private chat between teacher and student. As well as providing much needed verbal communication, these 10 minutes give students precious one to one time to discuss anything they wish. Ms Abdi said she 'strongly believes these one to one chats are vital for remote education' – the so-called 'new normal' for students currently studying from home.
The range of SDLs evolve with every new Academy term and aims to reflect constantly changing influences and the wider environment. There are currently 36 SDLs for this term, including Dungeons and Dragons, All about Korea, Pet Club, 5D Diamond Painting, Eco Engineering, Illustration and Chess Club, to name but a few. All about Korea and Dungeons and Dragons are both student-led SDLs, in which student leaders assign tasks and roles, in addition to carrying out team work with the larger group. As would be expected, these sessions are carefully monitored by teachers, but they are ultimately directed by students and as a result, inspire free-thinking, individuality and collaboration. Moreover, they encourage students to take responsibility regarding their own learning path.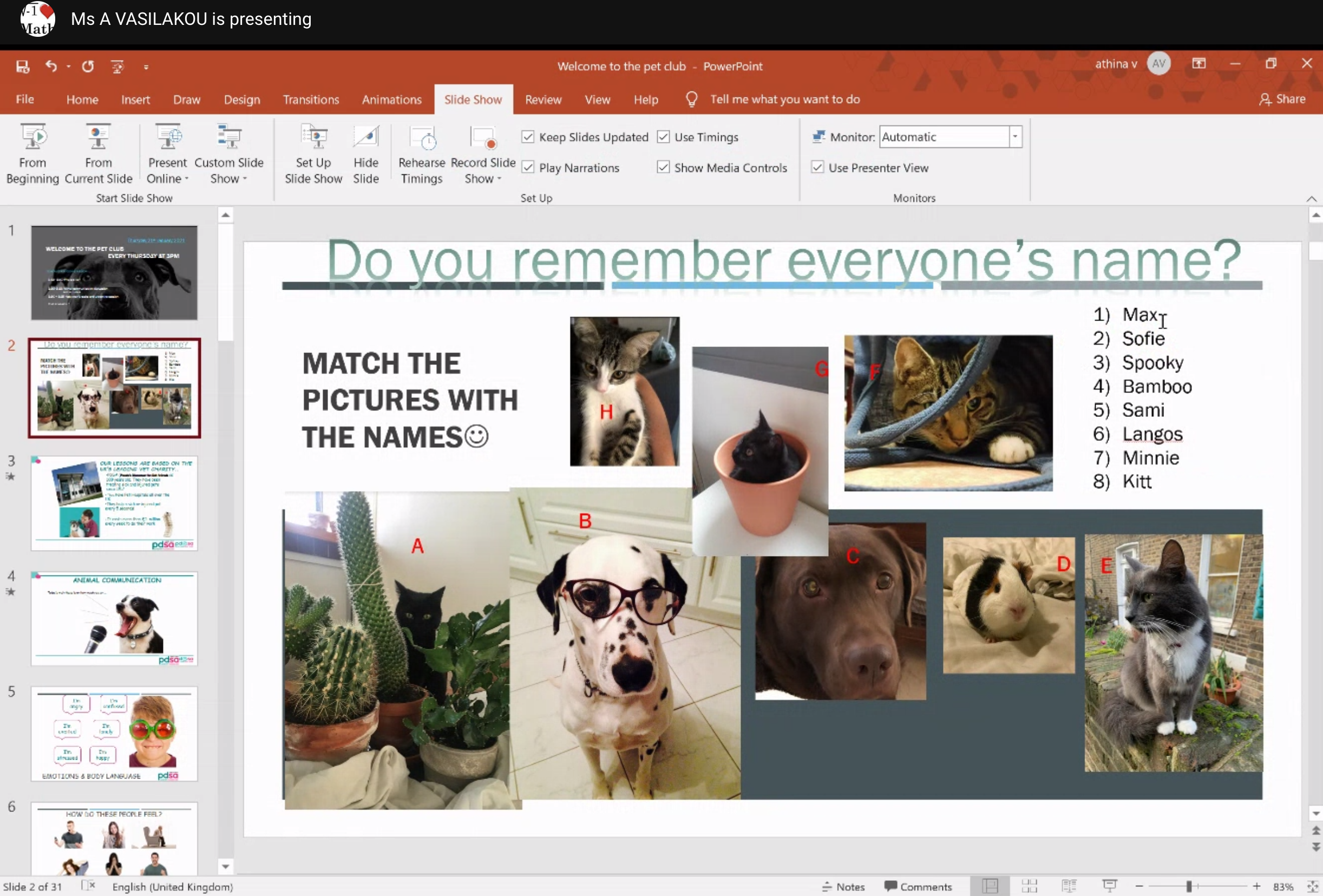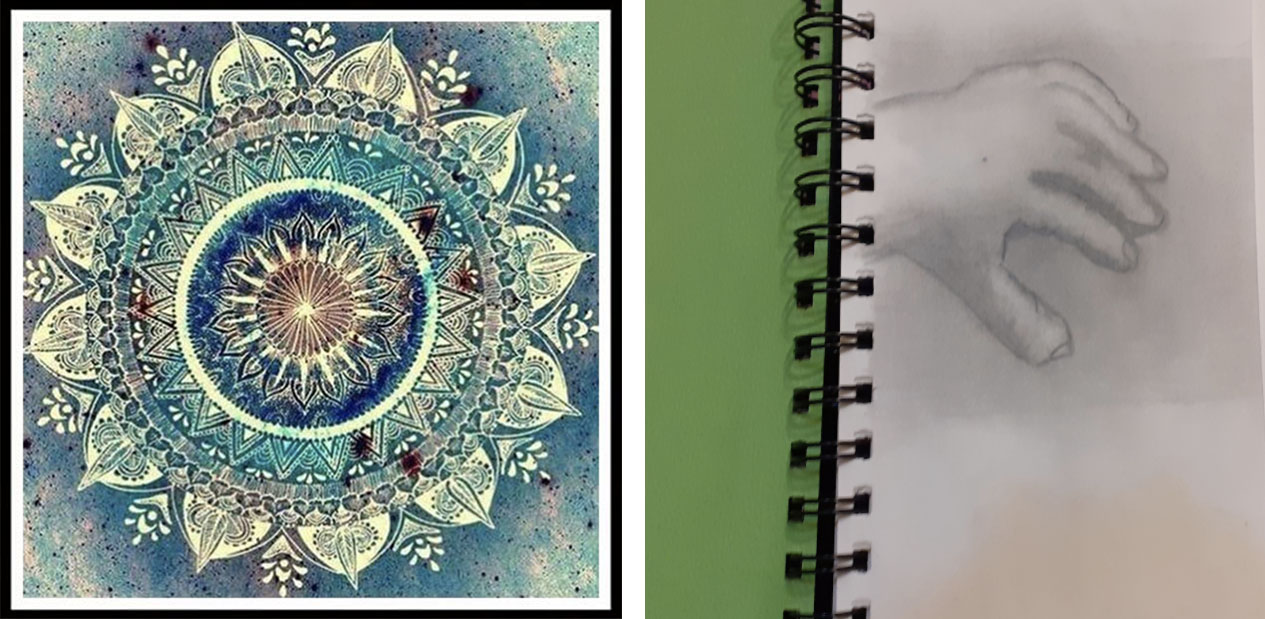 Screenshot taken from Pet Club, 5D Diamond Painting and an example of Student work from Illustrate.
Many of these SDLs were created with the intention of being taught on site at the beginning of the current term. However, due to the ever changing landscape of education, both then and now, the entire programme has moved online. The fact that all sessions were able to resume on the first day of term is due in no small measure to the dedication and dexterity of Ms Abdi and the other programme teaching staff.
Careers Programme
Another way in which Academy students are being offered unique opportunities in spite of the lockdown is via our dedicated Careers Programme, curated by Mrs Laura Manning and implemented alongside Mrs Eranda Aliu. This is an expansive programme, comprising University/College Open Days, Subject/Interest Specific Events, Careers and Work Experience Opportunities and General Information/Guidance. Over the course of these timetabled sessions, Academy students develop the knowledge and skills they need to make successful career choices and manage transitions in their learning.
In addition to the aforementioned role, Mrs Aliu is also the UCL Links Coordinator, a position which involves working in close partnership with our sponsor, the UCL University. Every year, among other activities, she coordinates and manages the running of the UCL Guest Lecture Series; these lectures are given by UCL academics and are addressed specifically to our Sixth Form students. Due to the recent lock-down and these being held virtually, the lectures are also now open to the KS4 group of students (GCSE students) and especially those interested at studying at UCL in the future.
A recent event from this series was a live lecture with the Biochemical Engineering team at UCL (see image). Dr Rana Khalife, Senior Research Fellow at UCL gave a lecture entitled 'Introduction to Biochemical Engineering', illustrating perfectly the ongoing support we are so privileged to have from our sponsor.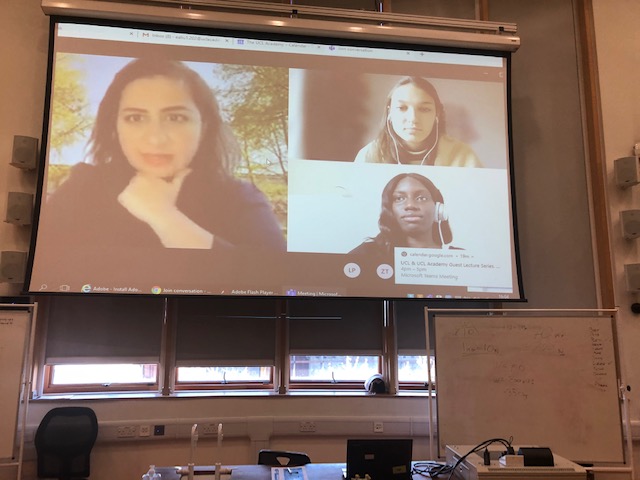 Live Lecture – 'Introduction to Biochemical Engineering' – October 2020
Since the beginning of 2021 and in the exact circumstances thrust upon the SDL programme, the entire Career programme is now online. However, this has certainly not impeded students and parents from having access to an equally varied and full calendar of events. From webinars such as Sustainable Cities (Joey Aoun, Environmental Designer) and Help with applying to Medical School', to Diversity & Inclusion in Careers: Parent Event with IBM, HSBC & Co-op, the information is broad and diverse, giving every student and parent the tools they need to make well informed decisions.
Alongside lectures/webinars, work experience is a fundamental and compulsory feature of the programme and student life at the Academy. You wouldn't be wrong for assuming that work experience might be difficult to arrange under the current lockdown. Be that as it may, Mrs Manning has endeavoured to provide access to all remote opportunities, including work experience. One such example being a placement at The Francis Crick Institute – a world leading biomedical research organisation investigating human disease. If successful with their application, budding scientists from the Academy have the chance to meet professionals in the field and to explore the cutting-edge work of the institute, a thrilling opportunity to say the least.
Since 2018, The Critchley Scholarship has been part of the Academy Career programme. Via a series of talks and visits, female students are encouraged to be ambitious, confident and successful in their studies and future. Those fortunate enough to be awarded this scholarship receive support and mentoring from Elizabeth Critchley, a successful businesswoman and a Partner of Ripplewood Advisors Limited. In October 2020, via a live link, the latest awardees of this scholarship were announced (see image). Aside from visits, the scholarship programme is still very much active and available as a resource to students during lockdown. Furthermore, Josh Critchley has now added his support to the school with the pilot programme "Investing in Futures". The programme will support up to fifteen Level 2 students to learn about the Financial Services Industry and give them tangible support to develop their Maths knowledge outside of the classroom.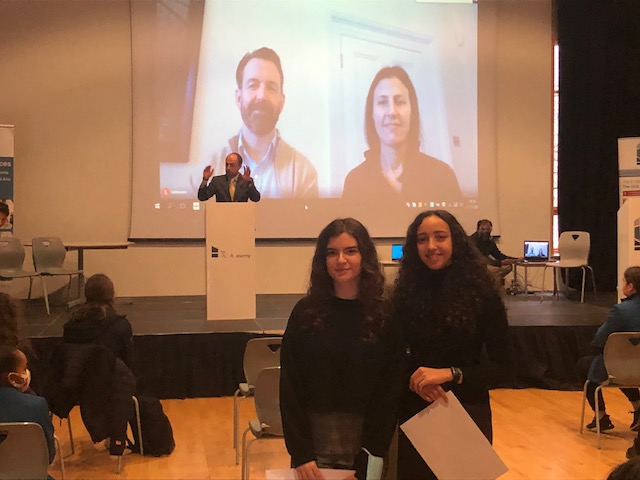 Elizabeth Critchley Scholarship Award Event – December 2020
These are just a few examples of the plethora of remote/online opportunities available during this period, giving only a small overview of the diversity and comprehensiveness of the SDL and Academy Career programmes.
Remote learning in general has not only given our students opportunities to grasp, share and present their work in different ways, it has encouraged them to take more ownership of their individual learning paths. In the future, many people may well continue to associate remote learning with lockdowns. Irrespective of this, our aim is to ensure the varied and abundant learning opportunities available before this period exist now and when onsite learning resumes.