The Academy Day
The Academy day seeks to make full use of the time available for learning. Learning sessions are divided into 50 minute periods and are a mixture of single and double periods. 
Students in Foundation through to Level 2+ should arrive by 8.25am every day of the week. A later start for Level 3 recognises the unique nature of adolescent development and provides these young adults with the time to prepare for learning.The day will start with 20 minutes housetime for all students between 8.30 and 8.55am. This will be taken by their Form Tutor and supported by the pastoral team. Assemblies for houses and year groups will take place at this time on allocated days. Every Friday, house time will be 40 minutes long and used to run the Academy PSHE curriculum with all year groups.
Lunchtimes will be 50 minutes long across the week (excluding 45 minutes for second lunch on Friday). Students in the lower school have the chance to opt out of certain SDL sessions, with parental permission. However, students are required to take part in at least one SDL a week. We encourage all students to take part in more.
The Academy remains open to students until 4.30pm every day for those families who want their child to have structured support for study. For Level 3 and 3+  the Academy will remain open for study until 6pm (with permission from staff). Please see information below for timings across the week: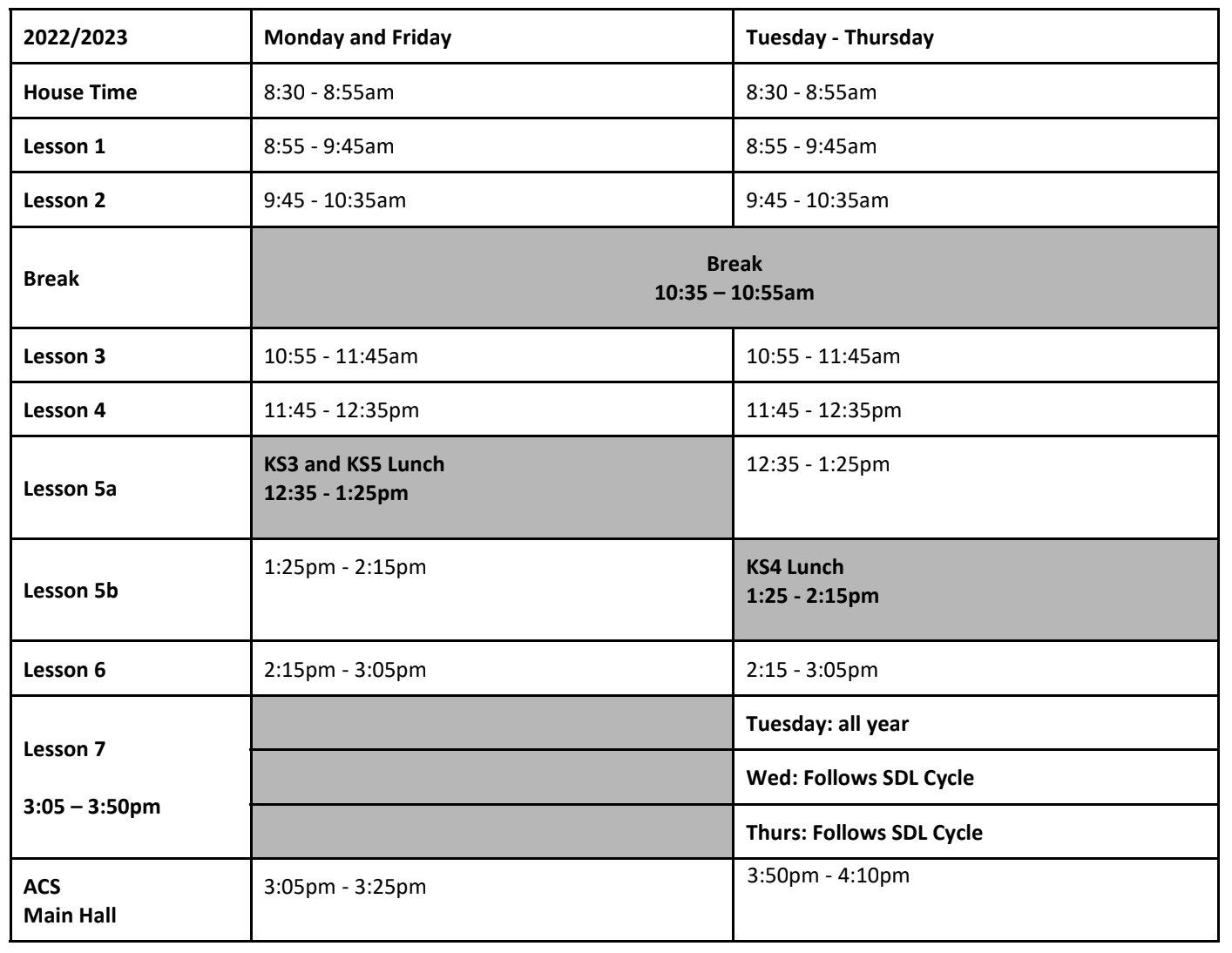 Finish Times Across the Week:
On Mondays and Fridays, the Academy will finish at 3.05pm.
On Tuesdays, the Academy will finish at 3.50pm. Staff training takes place every Tuesday.
On Wednesdays and Thursdays, the Academy will finish at 3.50pm when SDL is running (3.05pm when SDL is not running).
The total time in our school week is 33 hours and 40 minutes (when SDL is not running) and 35 hours and 10 minutes (when SDL is running).