The Orion Garden – a new STEAM classroom at The UCL Academy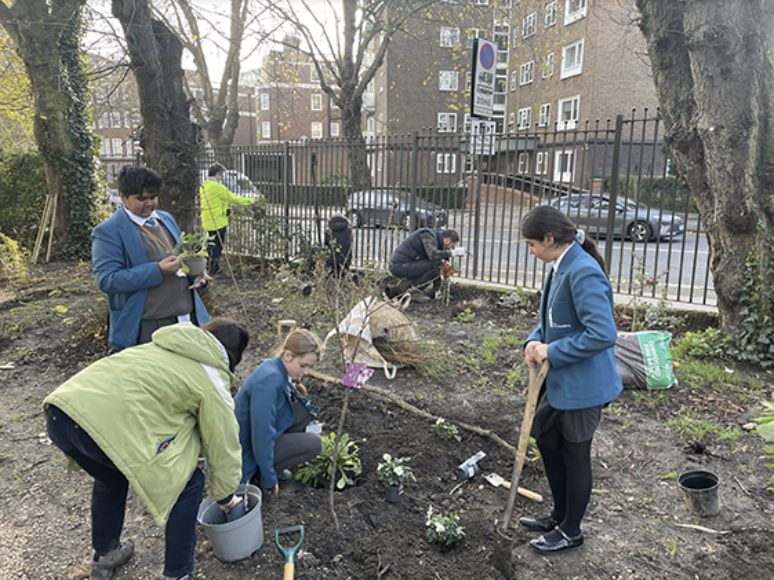 The UCL Academy building and its grounds provide inspiring spaces for all those fortunate enough to work and study here, and alongside the Architects' original landscape design, students and teachers now have a rejuvenated exterior garden to nurture, learn from and bask in throughout the year.
Our Connected Curriculum encourages students to apply their curriculum learning beyond the classroom to real world scenarios. Students from year 7 to year 10 have been involved in the leadership and co-design of the Orion STEAM Garden. The project has involved learning that is both creative and interdisciplinary – from applying scientific knowledge about ecosystems and biodiversity to designing a space that meets the needs of both wildlife and humans. 
Supported by Camden STEAM, the opportunity arose to make an application for a climate Kickstart prize to the Mayor of London, with the premise of the application and funding being 'rewilding' at the Academy. Much to our delight, the application was successful and the academy was awarded just under £9000, an appreciated contribution to say the least.
Camden STEAM facilitated connections to commission a local charity, 'Camden Think and Do', which consists of gardeners and general volunteers. Over 40 students at the academy have now been trained in the principles of rewilding and sustainability and co-designed the Orion garden space. 
Since September, with the available funding, 'Camden Think and Do' have delivered 3 workshops to approximately 40 students from years 7,8, 9 and 10. Via these workshops, students have learned why rewilding initiatives in schools and the environment at large are so important. The discussions in the initial workshop were varied, but focussed predominantly on soil, air pollution, biodiversity, food production and the element of wellbeing. Workshop 2 centred on the co-design of the garden, alongside organisations including Camden Think and Do, Camden Clean Air Initiative and Camden Arts Centre.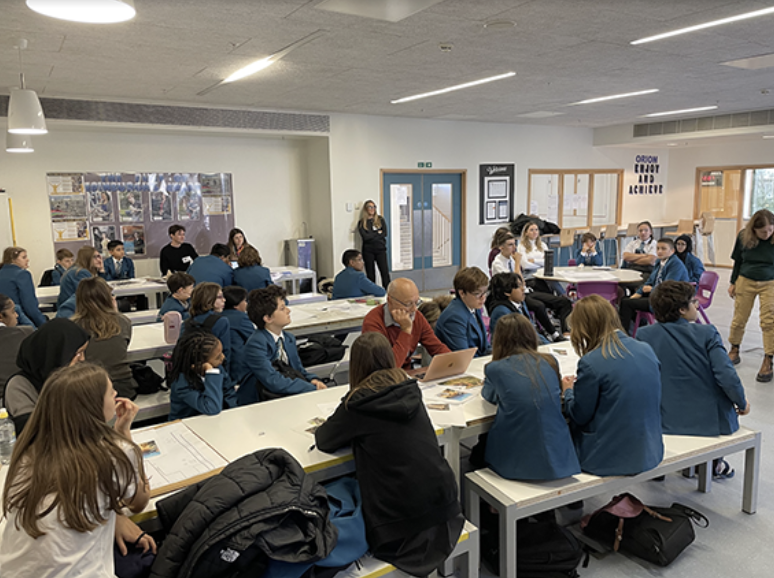 Building on the knowledge and principles already acquired,, the final workshop involved students working alongside Camden Think and Do and volunteers from Doughty Street Chambers to build pathways, plant trees, bulbs and seeds galore. Year 7 students in particular enjoyed this project, many of them embracing the collaborative design process and the opportunity to express their personal thoughts and wishes for the garden. 
Eliana (Year 7 student) said: 
"I have enjoyed the workshops we have been able to do; they have been a great learning experience for me and my peers. I have always loved nature and being able to help hit environmental problems on the head has made me even more aware of trying to save the environment".
Once again, all materials and plants were procured through the 'Camden Think and Do' funding. Camden Think and Do have been an invaluable partner in bringing students ideas to life.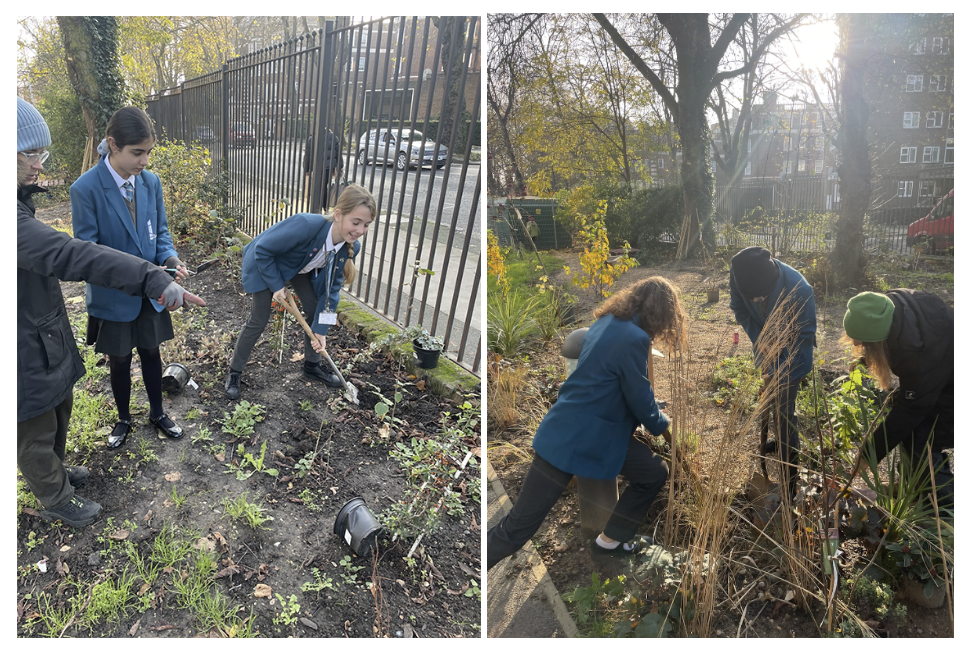 The cyclical nature of the garden will offer endless opportunities to study and understand the environment, combining curricular, social and emotional benefits. First and foremost, instilling students with patience and respect for nature, offering them an holistic understanding of the various processes that occur from one season to another; while learning that urban spaces, however small, can become important areas for plant growth as well as refuges for wildlife. All of which plays a part in protecting the ecosystem on a global level.
Time Lapse cameras already placed in the garden are recording the short and long term effects of weather and time, giving tangible curriculum links in Geography and the Sciences. In addition to these, students also drew upon key elements of the Mathematics and Art curriculums when they applied their knowledge of measurement, geometry and design in order to produce an aesthetically pleasing and efficient garden. The Academy's vision of a connected curriculum inspired by UCL's Grand Challenges, which include sustainable cities, could not be more relevant in the case of this new space and the learning opportunities it will provide for all years and all abilities. 
Needless to say, this garden has particular resonance with some of our students who don't have direct access to a garden or exterior space at home. We feel extremely fortunate and proud to offer every one of our students access to this garden, to participate in the maintenance of, or simply to use as a tranquil area in which to relax.
Such is the success of the newly planted Orion Garden, it has already garnered a loyal following of willing students, who will now maintain and nurture for their own enjoyment and education, and for those of future academy students.