Our Teacher Exchange Programme with South Hampstead High School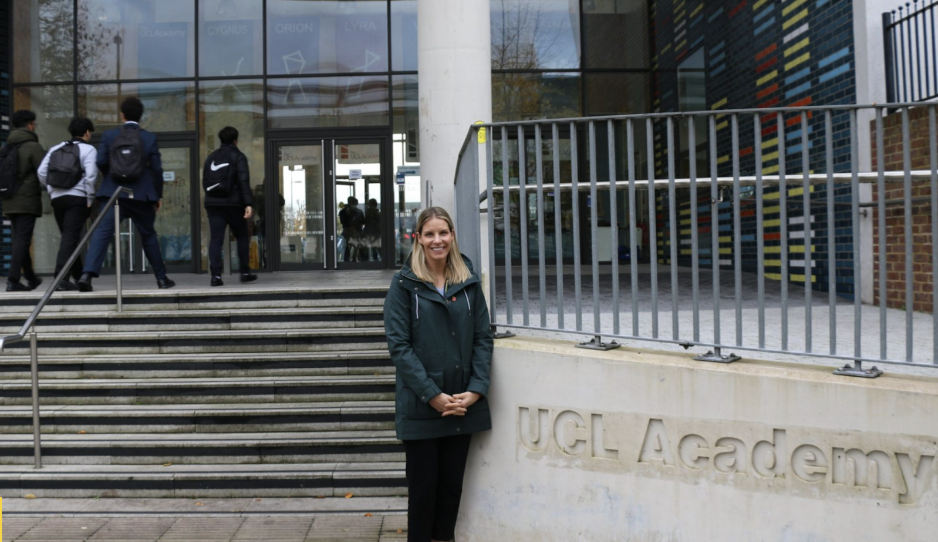 Ms Sanders (Geography teacher at South Hampstead High School)
South Hampstead High School is an independent day school in North West London. The school was founded by the Girls' Day School Trust (GDST) and is for girls aged 4–18. Initiated by South Hampstead High School, we are very fortunate to be part of a new teacher exchange programme, allowing teaching staff to experience how lessons are taught in our neighbouring schools; the importance of shared ideas and discussions about future teaching practices being of paramount importance.
Four UCL Academy teachers are currently taking part in the programme, one of them being Ms Trevisi, who recently said:
'Working in a completely new environment felt daunting at first, but Mr Larochelle (South Hampstead English Teacher) was so welcoming, knowledgeable and warm. It was very enjoyable to teach different texts, and this really inspired me with some choices we could make in our department.'
South Hampstead English Teacher, Mr Larochelle, commented: 'My exchange teacher's enthusiasm, positivity and support made the experience wholly enjoyable… We both developed a swift fondness for each others' students and interest in their success. The collegiality and unity of the staff at UCLA impressed me greatly; they are clearly a team united in their determination to care for their students and guide them towards success.' 
South Hampstead Geography Teacher, Ms Sanders, who shadowed Ms Rivas, a UCL Academy Engineering Teacher said: 'The programme helped me to recognise the common experiences of teenagers in London and appreciate the role that all teachers play in providing support to buoy their students. It has been a positive and inspiring experience.' 
Students are also benefiting from the schools' differing curriculums. Year 8 UCL Academy students have been truly immersed in Latin, courtesy of South Hampstead Classics Teacher, Ms Turnor. Such is the popularity, students have decided to continue studying the subject towards the WJEC Level 1 qualification in Year 10, so will have a qualification in Latin to add to their GCSEs.
Plans are also underway to expand the programme to include debating at the Academy next year, further testament to the success of the collaboration thus far.