Founders' Day Celebrations 2023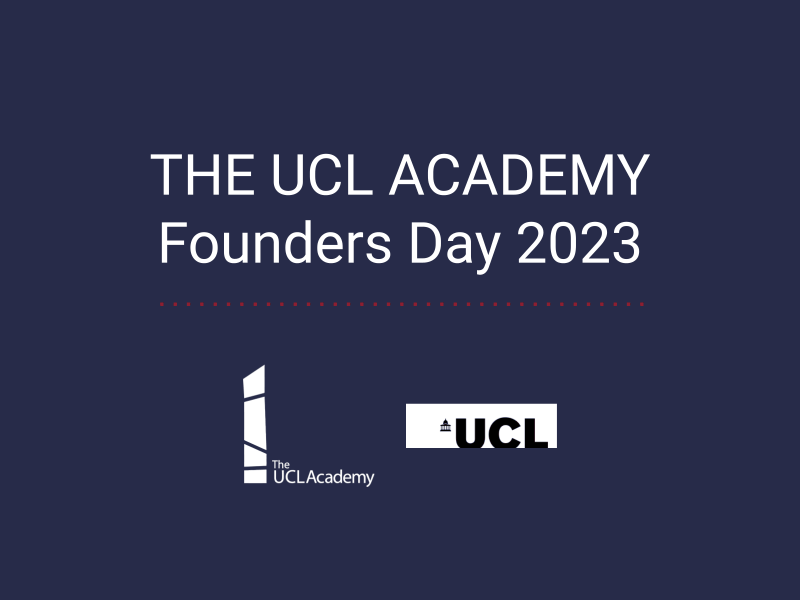 On May 24th, students, staff, Governors, UCL and extended members of The UCL Academy community came together to celebrate 10 years of the Academy. An eagerly awaited day that certainly lived up to and beyond all expectations when it finally arrived.
The main hall provided the stage from which the day began and ended. Speeches by President & Provost of UCL, Dr Michael Spence, Chair of Governors, Professor Lucie Green, Tulip Siddiq, MP and Sixth Form students set the tone for an afternoon that showcased everything that is unique to the Academy Curriculum. Not to mention the ambitious 5-Year plan for the Academy, explained by Robin Street and Simon McBride during speeches later in the day.
After the initial welcome, attendees were taken on student-led tours of the building to see some of the more usual and diverse subjects available to our students, by way of an 'Enrichment Showcase'.
These included Music, Drama, Mandarin, SEND & Inclusion, Self Directed Learning, Engineering, PE, Careers, and Food.
Visitors to the Music department were treated to performances by the school choir, the Sixth Form instrumental band and members of the school rock group. Drama students dazzled us with their wonderful performance of part of Arthur Miller's iconic play, The Crucible. Mandarin teachers and students took part in live lessons, where their Chinese language skills were put into practice during haggling and negotiation role plays. SEND & Inclusion allowed visitors to see examples of the types of interventions run by their team, including communication and interaction needs; cognition and learning needs; sensory and physical needs; and social, emotional and mental health needs. Self Directed Learning showcased a small range of activities from the current term, including a group of students taking part in an Albanian/Kosovan dance rehearsal, fencing coaching session led by Jamaica's Number and a mini chess tournament and Origami activity led by members of the UCLA staff. Engineering gave visitors the chance to witness the future of education and technology, with live demonstrations of state-of-the-art CADCAM equipment, high-tech 3D printers and the pouring and finishing of liquid metal. PE showcased our wonderful partnership with Greenhouse Basketball, through which some of our students have developed and excelled to play at national level. Careers gave the opportunity for visitors to learn about this department helps our students to have inspiring and meaningful encounters with a wide range of people, through opportunities such as work experience, workplace visits, informal breakfasts, workshops, careers, university fairs, and more. Food was prepared by Level 1 and Level 1P students, showcasing their practical and creative skills. They prepared and cooked a variety of recipes, including traditional foods from some of the cuisines of our diverse school community.
The day culminated in the main hall with more talks by past and present students, as well as Elizabeth Critchley (Ripplewood Associates), Robin Street and Simon McBride (Co-Principals), not forgetting a beautiful a capella sung by one of our Academy students. While we all nibbled on the dishes prepared by L1 and L1 Plus Food students, there was a chance to reflect on not just the afternoon and the past 10 years, but the exciting times that lie ahead.
The next five years will build on the exceptional work of our sponsor, governors, staff, students and parent community in further establishing our school. While we look to further cement already proven practices and achievements, we also have a vision for the future. Our vision for the Academy is explained in this paper; please take the time to read this important document, which outlines the framework of how we will work with the community, our sponsor and other partners in achieving our vision.
Our sincere thanks to all those who made this wonderfully celebratory afternoon the success it was. And of course, to all those in our extended community who attended, and by all accounts enjoyed it just as much as us.