Contemporary Art Lectures by Acclaimed Artists -Tuesday 3rd March
On Tuesday, our A Level Art students took part in an immersive day of Art lectures. They were lucky enough to meet and hear from four leading contemporary artists working in different areas of art and design; learning about their creative journeys, what inspires them and how they turn an idea into a work of art. Students heard from Cornelia Parker OBE RA, Simon Norfolk, Stuart Pearson Wright and Ingrid Murphy.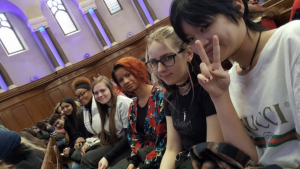 Cornelia Parker is one of Britain's most acclaimed artists. Her work contains themes of gain and loss and often transforms ordinary objects into something compelling and extraordinary. She has produced a diverse range of work and collaboration features heavily in her process. She worked with a Nobel Prize winning scientist to turn fragments of Picasso paintings into new artwork. And, along with the help of the Embroiderer's Guild and prisoners, she recreated the Wikipedia Magna Carta page in embroidery; marking the 800th anniversary of the granting of the Magna Carta.
The talk from Simon Norfolk, an award winning documentary photographer who often captures moments of war or crisis, helped students understand the link between art history, fine art and photography. Simon succinctly explained how the framing and composition of his war reportage often links back to paintings of the 1600's.
Stuart Pearson Wright, one of the UK's leading portrait artists, gave a superbly entertaining talk enabling students to learn about his process and inspiration. He has won both the National Portrait Gallery BP travel prize and first prize in the BP portrait awards. His paintings of John Hurt and JK Rowling were purchased by the National Portrait Gallery and are often on display. Students learned about the personal nature of inspiration and how you can use your own experience and identity to drive forward ideas.
Ingrid Murphy spoke of the connection between ancient and modern artistic techniques. An award winning ceramicist, Ingrid explained how she merges science with craft in her digital design and making processes. Students were particularly fascinated with her use of metals in glazes to produce electric switches and enabling sound and connection across time and space.