Many Reasons to Celebrate on
GCSE Results Day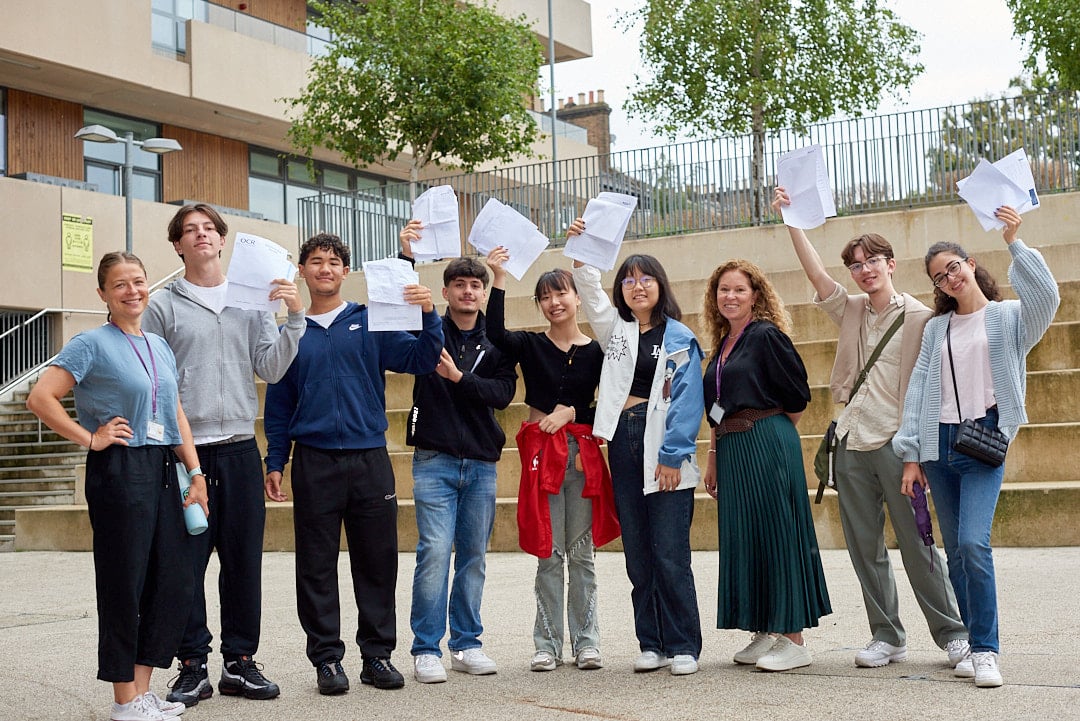 The UCL Academy is delighted to announce another excellent set of GCSE results. 
We are once again extremely proud of the students whose hard work and diligence have been rewarded. This cohort in particular has been deeply affected by Covid and all that it presented, with many of them returning to begin their GCSEs as the pandemic was first announced. However, their stoicism has carried them through, and today all their hard work has been duly rewarded.
A large number of students arrived early this morning to collect their results and as the day progressed, they were joined by friends and family members to celebrate their achievements. Many of these students have now also enrolled; the process that signifies the next part of their education and journey with The UCL Academy is beginning.  
Robin Street and Simon McBride – Co-Principals of the Academy said: 
"Results day must always be about celebrating and supporting individual students in equal measure. In the midst of an ever-changing national picture, for students and their year group, it is about celebrating the progress they have made from a range of starting points. For this cohort, individual achievements such as those outlined below are rightly celebrated. Just as much though, we must all celebrate the students who have overcome individual barriers and managed personal challenges. This year group has been a huge support for each other and have epitomised our motto of Learning to make a difference together. We are delighted to be welcoming many of them back in September. For those moving on elsewhere, we look forward to hearing about their future successes and welcoming them all back in years to come as UCL Academy Alumni."
Some notable achievements:
As one of the Academy's top achieving students, Junyou Zhang attained a high set of grades including 5 9s, 2 8s, 1 7 and 1 6. Junyou joined the Academy in January and spoke of how important the support of teachers was considering her late arrival. Moreover, how they were imperative to her success, enabling her to 'quickly progress and prepare for exams'. Junyou will return to study at the Academy, although not completely decided, she is considering studying 4 A Levels in Economics, Mathematics, Further Mathematics and Psychology.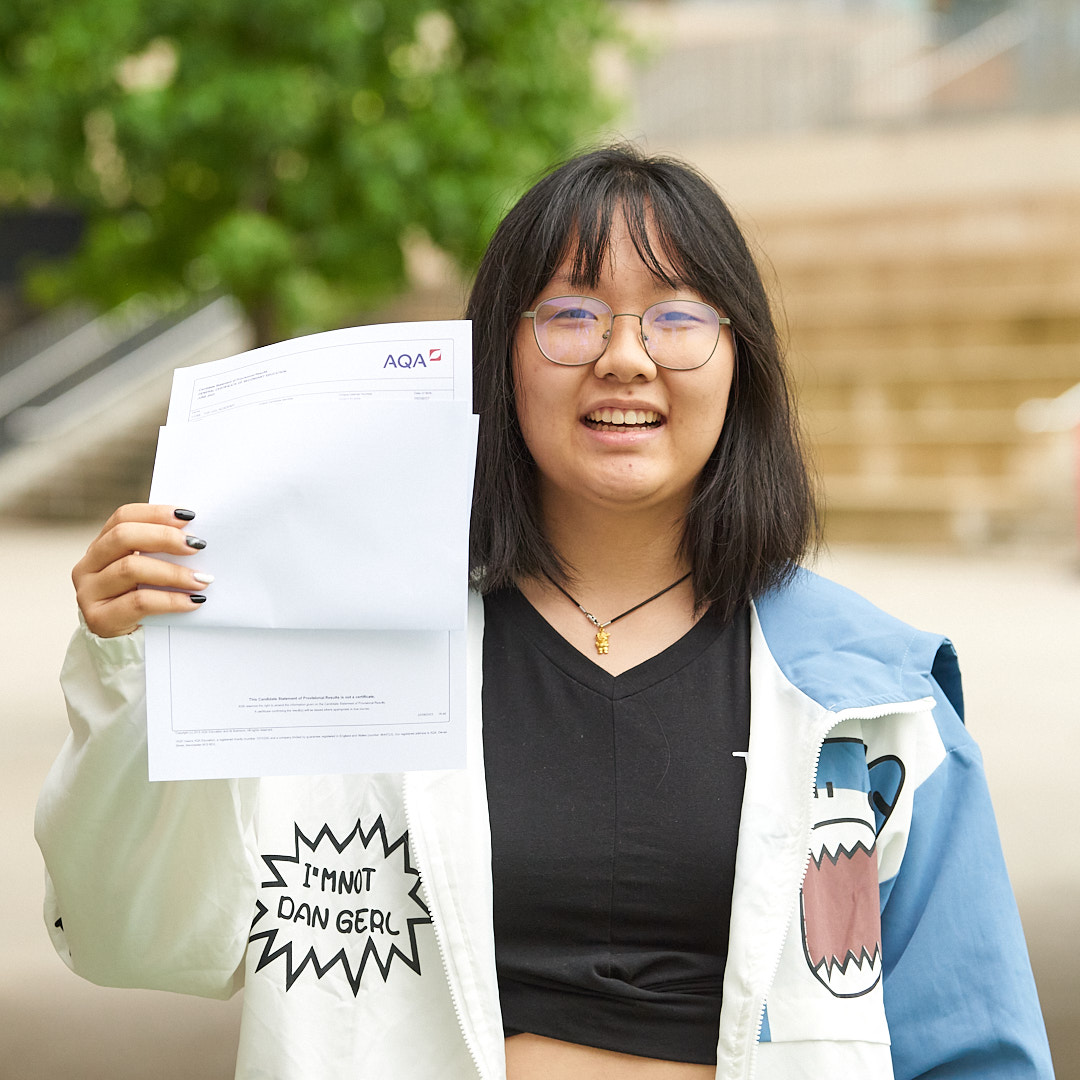 Another top achieving student and the sister of Junyou Zhang, Junyi Zhang achieved an equally impressive set of results, 7 9s, 1 8 and 1 6. Junyi also joined the Academy in January and spoke equally highly of the invaluable support and resources given to her by teachers, thus allowing her to 'catch up' with other students and be 'exceptionally well-prepared for her exams'. Junyou will also return to study at the Academy for 3 A Levels in Mathematics, Biology and Chemistry.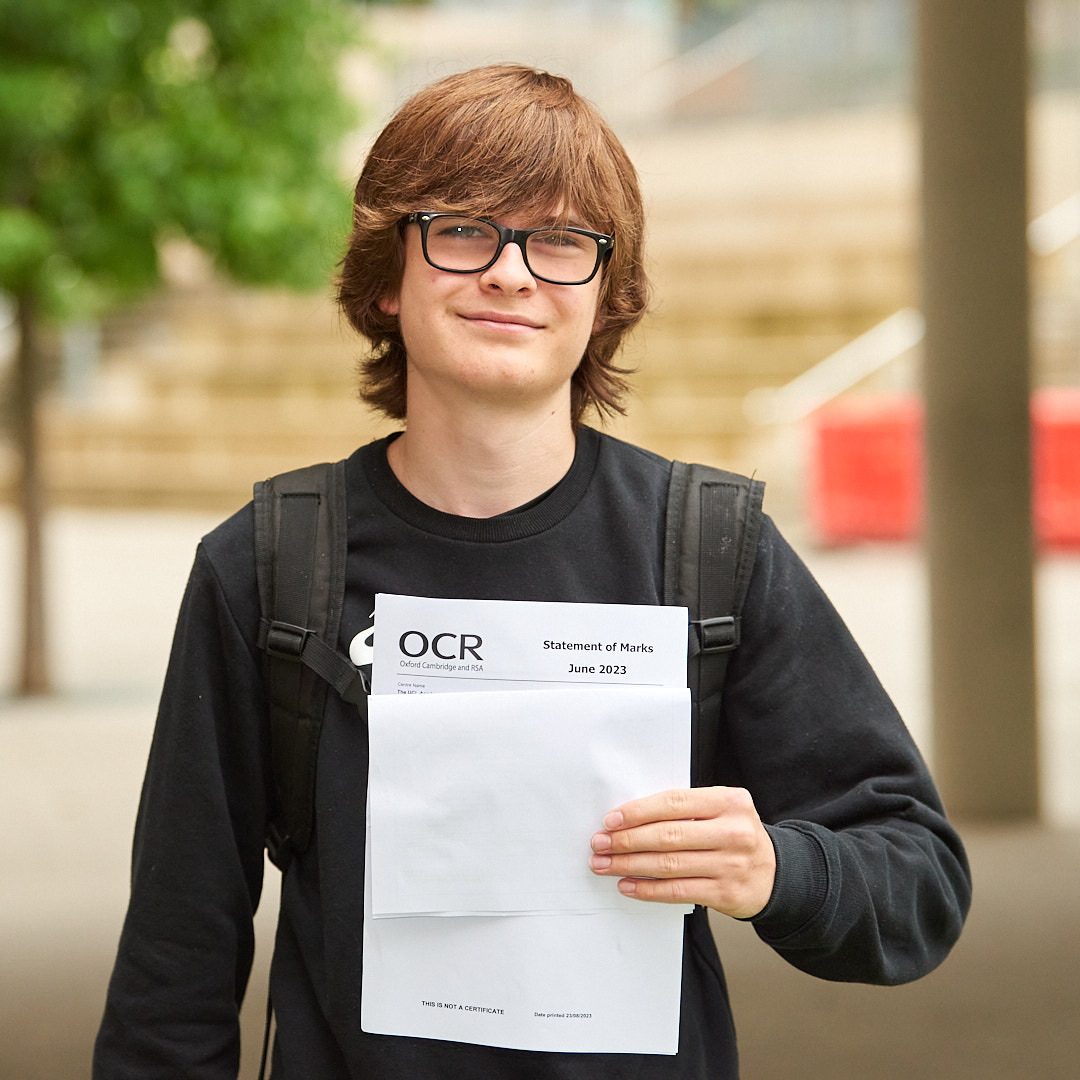 Oscar Worrall has been awarded a hugely impressive 10 GCSEs, comprising 7 9s, 2 7s and 1 8. Oscar has been a student at the Academy since Year 7 and we are delighted all his hard work has come to fruition. Oscar is moving on to study for 4 A Levels in Mathematics, Further Mathematics, Physics and Economics. Oscar said 'The maths department has been excellent and has really helped me achieve my grades'.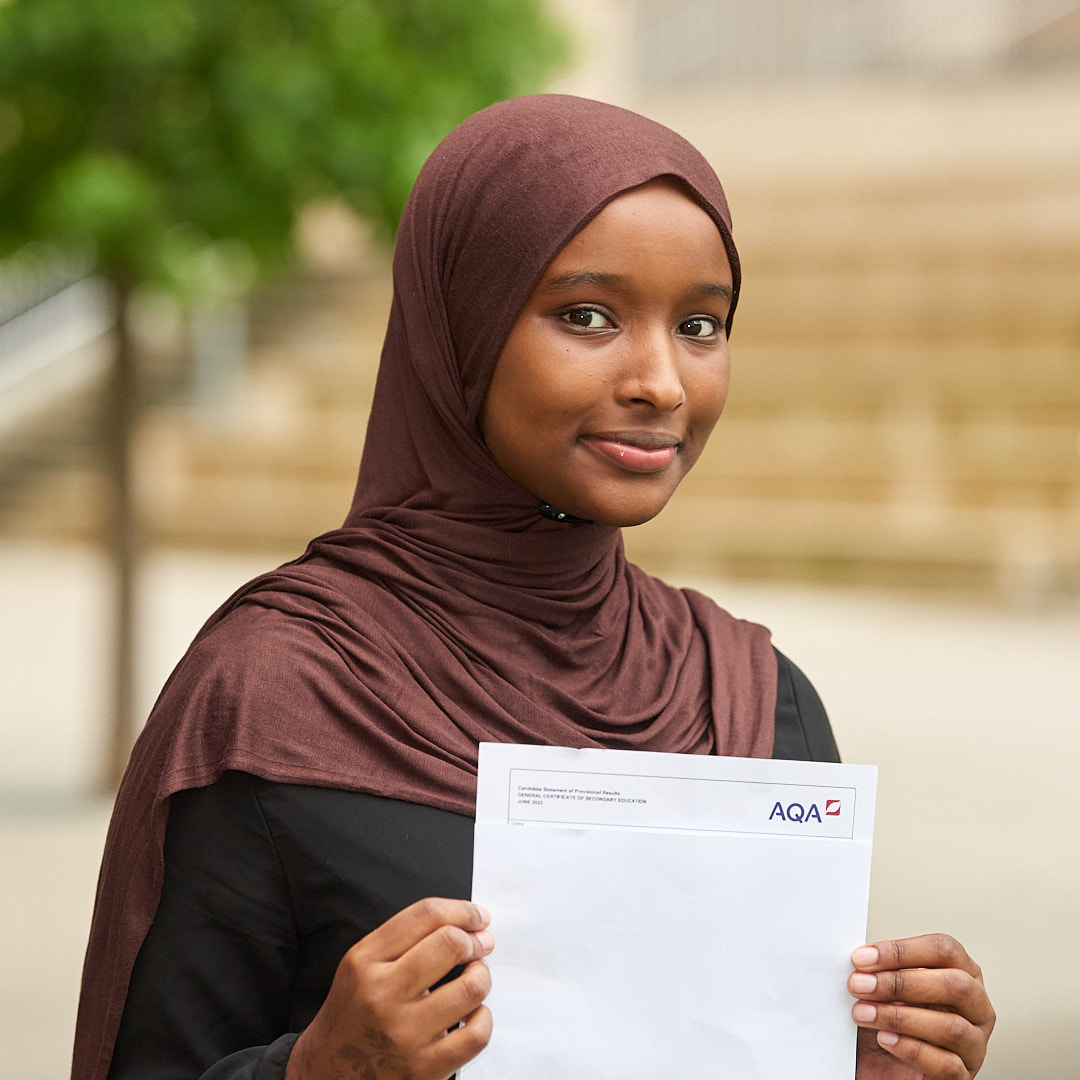 Ruqiya Hussein was delighted to achieve 11 GCSEs, including 2 9s, 3 8s and 5 7s. Later this year, she will continue her studies at the Academy, returning to take A Levels in Biology, Chemistry and Mathematics. Ruqiya spoke warmly of all those in the Mathematics Department who had helped her achieve her grades, saying 'her hard work and their help had allowed her to succeed'.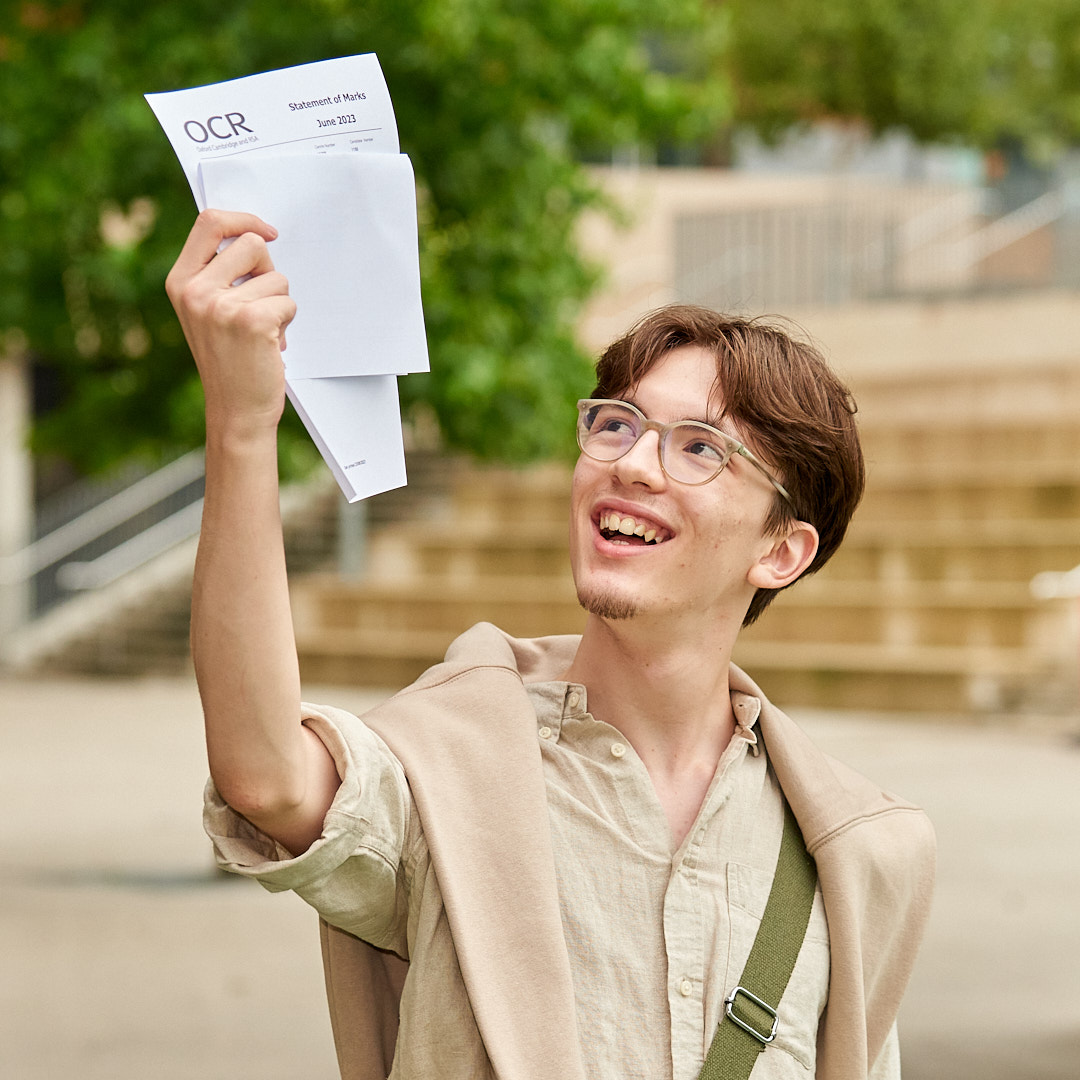 Dario Velazquez – With 1 9, 8 8s and 1 7, Dario was quite rightly thrilled with his results. He spoke passionately about the diligence of Academy teachers, who he believes worked equally as hard as he did to ensure he reached his potential. Dario praised the student-teacher relationships he experienced throughout his A Levels, crediting his teachers as being 'extremely approachable, friendly and professional'. Dario will continue his studies at the Academy in September, returning to take 4 A Levels in English Literature, Mandarin, Mathematics and either Further Mathematics or Spanish.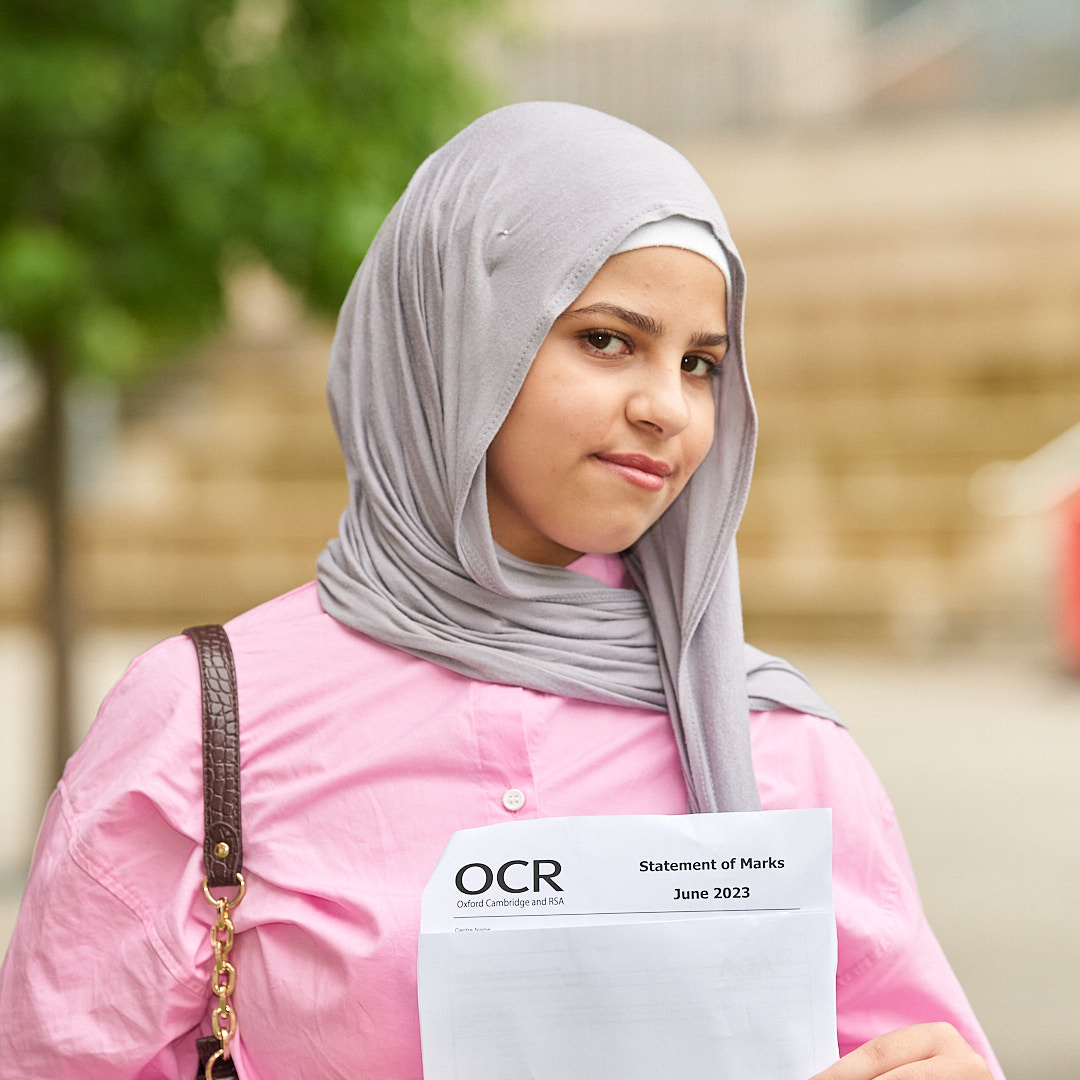 Aya Alzhmad was thrilled to collect her results this morning. She was awarded 10 GCSEs, including 1 9 and 6 8s. Aya will be joining us in September to study for her A Levels.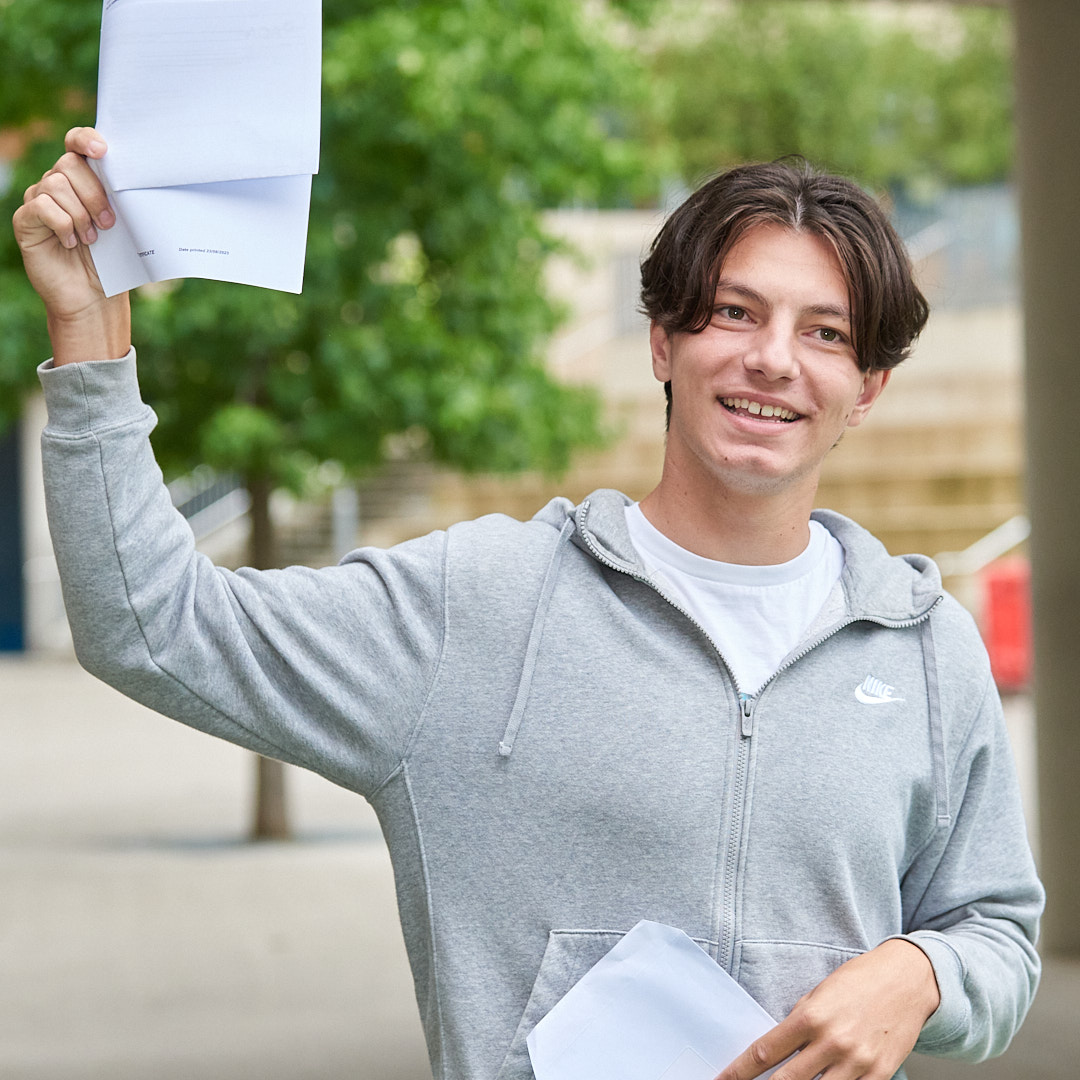 As one of the Academy's high-achieving students, Edmond Hakaj worked exceptionally hard to attain his grades. With 10 GCSEs including 6 8s and 3 7s. Edmond expressed the importance of House Time each morning throughout his time at the Academy, specifically concerning 'the help he received with revision and dealing with exam-related stress'. He will begin his A Levels later this year, studying Mathematics, Politics and Economics.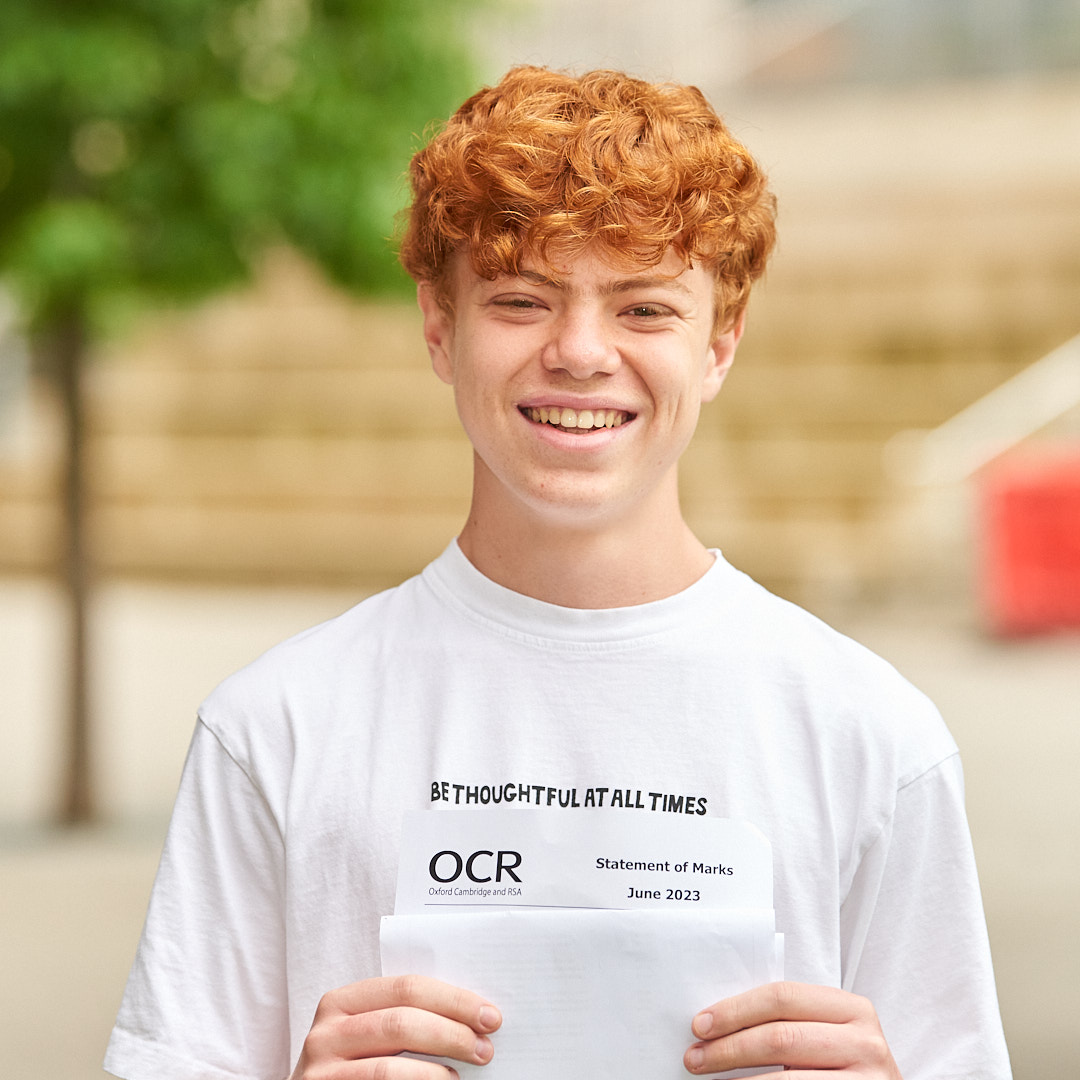 Harvey Nightingale has been awarded an impressive 10 GCSEs, including 6 8s and 3 7s. He will return to study in September for 4 A Levels in Biology, Chemistry, Economics and Mathematics. Harvey said he'd 'absolutely loved his time at the school' and that 'there wasn't any one thing that stood out, as it was all excellent!'.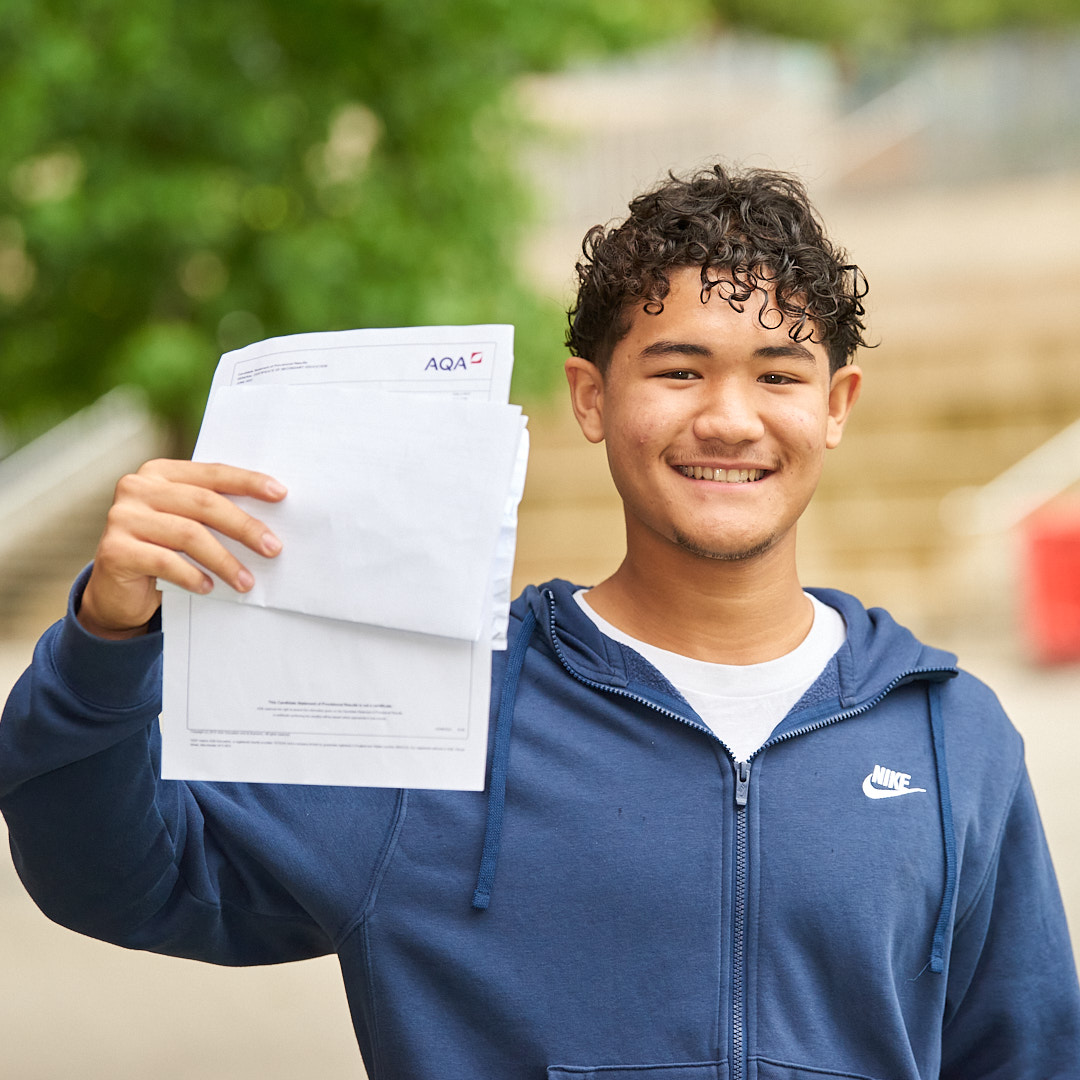 Kwan Warner was delighted with his results this morning, having been awarded 8 GCSEs, including 2 9s, 2 8s and 3 7s. Kwan will begin studying 3 A Levels later this year,  in Economics, Mathematics and Psychology. Kwan singled out his Mandarin teacher for praise, saying how they'd helped him significantly improve his grades in the subject over the last year.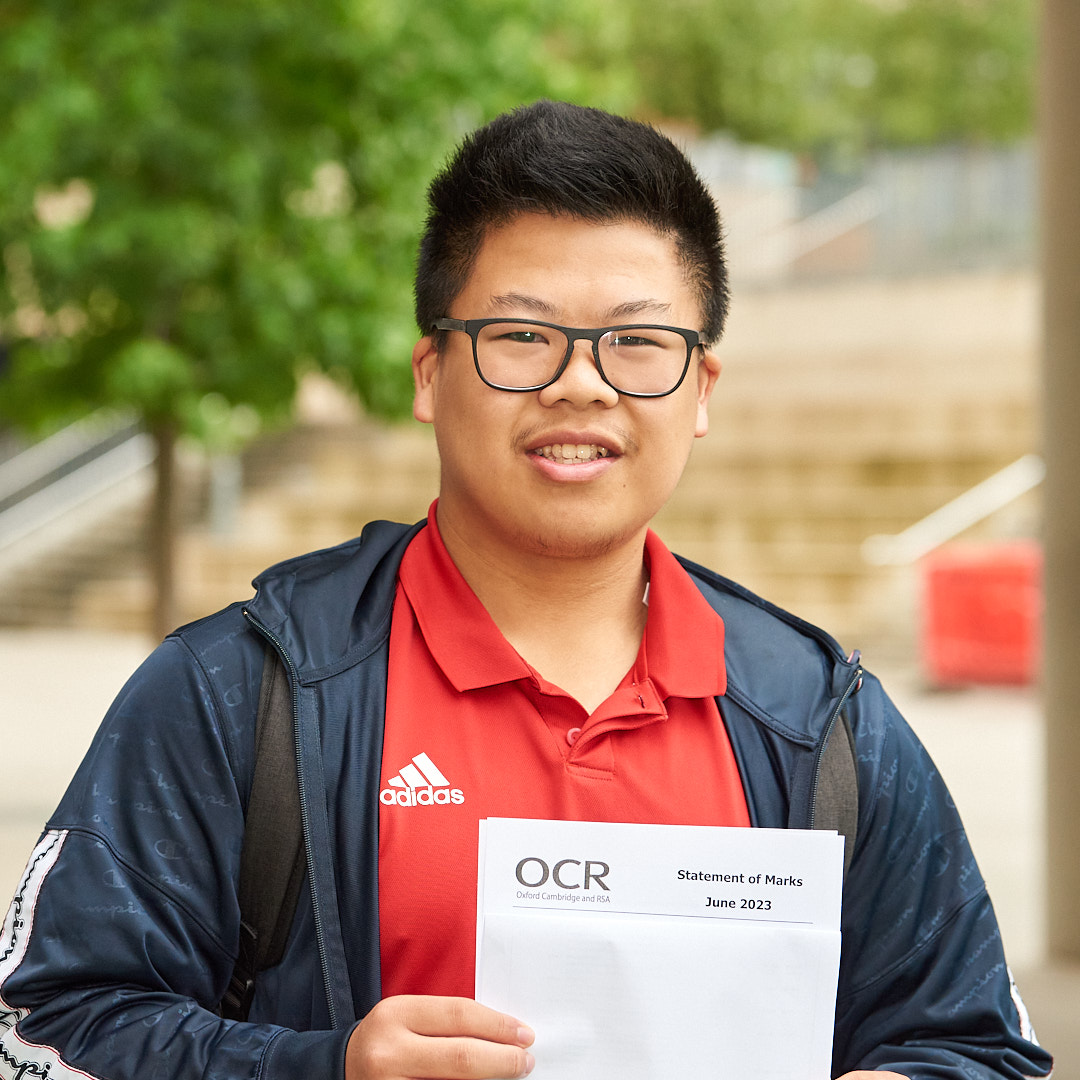 Jun Chen was extremely happy with his results today, after being awarded 10 GCSEs including 2 9s, 4 8s and 3 7s. Jun has been a student with us since Year 7 and we are absolutely delighted all his hard work has paid off. We are also very pleased that he will return to the Academy in September to study 4 A Levels. Jun said 'the Maths and English department had been pivotal to his success',. In particular, Mr Adamson and Ms Wintle, who he said were 'excellent teachers'.